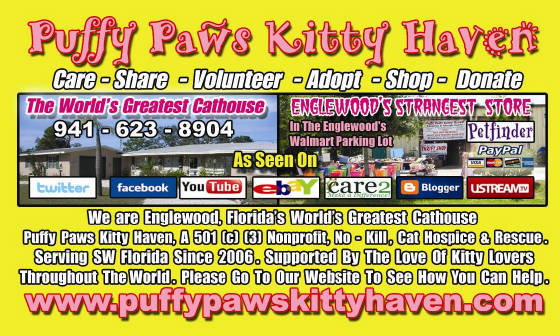 Update: Got a phone call back. Bad News / Good News.
On the major grants level. - A Grant For A Spay and neuter program..
I was informed that these days, due to a policy change
, the Gulf Coast Community Foundation
, are only giving out grants to the groups that are in collaboration with each other.
It turn into a very heated conversation as I explained to him ,while he was browsing our web site, that we tried to work the other groups in the area to no avail.
He than told me that he has worked in animal recuse in the are for 30 years and he well aware of the current situation of the level of the lack of cooperation of the various groups, and when he first started out,he was astonish , by the lack of cooperation between each groups. I told him that we found out the hard way over the years. And than i directed him to one of our pages on our Web site.
The True Story of Puffy Paws
I apologized for being so emotional in explaining to him what the other groups have directly done to Puffy Paws over the years. He than said -" Its all alright I can here the sincerity in your voice "and if I can find two groups who want to collaborate - he will have a check for me.
Like my Father always said: Turn a negative to a positive .So my job in the future is try to find two groups that will eventually want to collaborate on a group project with reducing the number of feral cats with a spay and neuter program that will work out for all income brackets.
Yet their is still hope yet from getting help from the local community becasue he directed me to two different site.
One to get funding for smaller projects
https://www.gulfcoastgives.org/
The other one to get local volunteers, to help with kitty kat adoptions and PR and fund raising events.
http://www.gulfcoastcf.org/news/agenda/youd-be-perfect-for-this/
So in closing it looks like I have my work cut out for me locally
Good day on this project with an emotional roller coaster ride, to boot.
Rick
________________________________________________________________
ASKING FOR HELP LOCALLY: WHY NOT US ????
In the years past we have not had good luck with getting a solid response from the local Gulf Coast Community Foundation, http://www.gulfcoastcf.org/
In seeking aid from them. We never even got a chance for the application process with them for any of the programs, that they offer the other Humane societies and animal rescues in our area. Which has resulted in hundreds of thousands of dollars for t

hem through out the years.
Today I talk to the receptionist and brought up those concerns about the difficulties we had , with being told "NO:, one year from the git go. The other year, not getting phone calls back, and what did we have to to do to receive help from them and she said " Maybe We Can Not Help You " !!!
She than transfer me to a man she said could help - I left my number on a voice mail for Mark P. I will keep all you updated on this journey.